The 2016-17 Spring Football is here!
We had our Spring Meeting this past Monday, April 24, 2017. Not sure how many games will be scheduled but may be a few more than last year as the Austin Camp will not be held this Spring. Make sure you update your availability for the next few weeks and click "ready to be assigned" on your arbiter profile.
GMAC OFFICIAL RECONIZED AS

FHSAA ROOKIE OFFICIAL OF THE YEAR!




At this year's FHSAA Summer Conference our very own Antonio Smith was recognized at FHSAA 2016 Male Rookie Official of the Year. Congratulations Antonio on the well deserved honor.
GMAC Office Location
The GMAC Office has moved 9040 SW 79th Avenue, Miami, Florida 33156 were the old South Region Office was located before it moved to Doral. Phone number 305-275-3722.
Having the GMAC Office located in Kendall means visiting or dealing with the GMAC Office only is a little easier in the sense of parking. However, for that once every five years event it means coming to the GMAC Office first before heading downtown to have your fingerprints and picture taken. A small inconvenience thankfully since it is not an every year occurrence.
WHO WEARS SHORT SHORTS?

WE WEAR SHORT SHORTS!

GMACFOA Members voted to expand the use of shorts to include varsity contests that kickoff before 6pm. While shorts we previously authorized for afternoon JV contest all varsity games previously required black officiating pants. The new policy makes it the referee's option for the crew so members should make contact with their referee before any afternoon game.

PLEASE NOTE that FHSAA now provides the use of black socks when shorts are used and approved by the local association.
Registration will open in June. GMAC FILLABLE FORMS. No Change in GMACFOA Dues for 2017-18 Season
Good news there will again be no change in GMACFOA Registration Fees this season.
Not sure about FHSAA not that c2csholls.net is done. Hoping that GMAC will approve online payments this year.
GMACFOA

$35.00

cash, check or online

FHSAA

$46.00

if first (only) sport

GMAC

$40.00

check or cash only

| | |
| --- | --- |
| | Assignments will be withheld until all dues are paid. |

Registration with FHSAA can only be completed online at

Please print and complete before picking up materials.
GET FIT OR YOU MAY BE A STEP SLOW!
OK no excuses this year as Runnin Refs event will be held on Labor Day itself, no games or jamborees. Get you run in before the BBQ. This is part of the GMACFOA's community service initiative and will once again raise money for the KiDZ Neuroscience Center and their UConcussion Treatment and Management Program not to mention that this fund raising pays a dividend to the participant of getting "Fit to Officiate!" Last year's run raised $4,000 and our goal this year is double. Officials may remember that Dr. Hotz presented at the Coach-Referee Meeting and Miami-Dade High School Athletes are evaluated through the U Concussion Treatment and Management Program; what a great way to benefit our local community and the students were service. Runnin Refs originated as a community service project looking to do something to help our community and actually served to inspire more than one of our members to do something for themselves that has helped improve the quality of officiating overall.
| | |
| --- | --- |
| | Help support the Runnin Refs in their community service initiative. |

Make plans to attend GMAC Rules Clinics
The Herb Latal Memorial beginners' Rules Clinic will open Thursday, July 6, 2017 and will run Tuesdays and Thursdays through Thursday, July 27, 2017. The Intermediate Clinic will have four sessions July 18, 20, 25 and 27, 2017. So make plans to attend and pick up valuable crew points for 2018 playoffs.
GMACFOA Annual Picnic August 13, 2017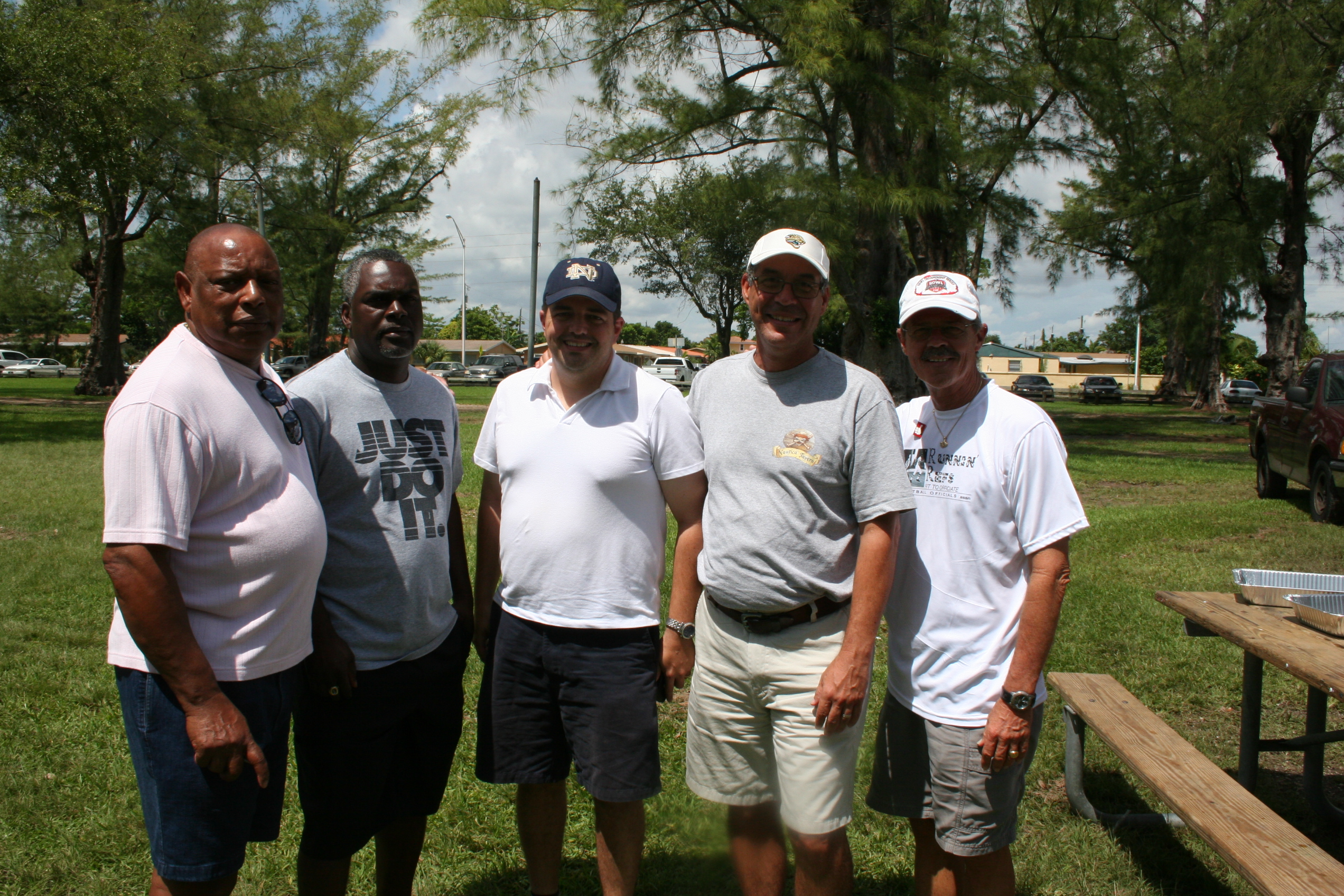 From left to right Willie Robinson, Mark Mills, Ariel Rodriguez, Noel Rego and Joe Underwood
GMAFOA will kickoff the season with a Picnic! This year picnic will be held on Sunday, August 13, 2017 at the Lakeside Pavilion. The timing of the season may require that we hold the crew draft at the picnic. In addition we will have food and a fun time for all.
MEETING ATTENDANCE IS REQUIRED




2017 MEETING DATES




April 24, 2017

Tuesday, August 22, 2017

September 11, 2017

October 2 and 23, 2017

This is a reminder that meeting attendance is required and if you cannot make it you must contact GMACFOA Assigner Carlos Calveiro before the meeting or within a reasonable time after if it is unexpected. However, any unexcused absence not related to football will be subject to a $10 fine! We understand that things come up in our lives that cause us to miss membership meetings, however meeting attendance is required and compiled in your ratings points. Make it a point to attend all meetings you may miss something important and you will be fined unless there is a valid exigent circumstance. Update your arbiter availability now for other sports as an assignment in another sport will not avoid a fine. DOWNLOAD THE GMACFOA CALENDAR from ArbiterSports on the Forms Tab..
| | |
| --- | --- |
| Miss a meeting? Don't cry... | |
"Represent" the GMACFOA both on and off field!
Pre-Order Your NEW Association Polo!

The GMACFOA showed off the design for the NEW association polo shirt. Pre-orders are now being taken for this moisture management fabric in grey with grey shoulder panels. The association logo will be embroidered in black.

Size: M-XXXL

(Note Additional Chargre for XXL and XXXL)




$27

S

$27

M

$27

L
KNOW YOUR ASSOCIATION BY-LAWS
As with any organization or group we have promulgated a set of rules to govern the business of our association. It is important that every member of our association take the time to familiarize themselves with the by-laws. Members should also take the time to read the FHSAA Officials Guidebook that sets forth requirements for both officials and their local associations.
Click here to download By-Laws
Community Service "Refs Can Help!"
REAL ESTATE TAX APPEALS

Tax Bills! Nobody likes them and I'm here to help

Proposed Real Estate Tax Notices we be mailed to all property owners mid-August and if you think your assessment is too high I can help. The deadline to appeal is around September 20, 2016 so you have to act fast. My fee is based on results just ask fellow GMACFOA/SFFOA Member Carlos Calveiro. "Barry filed the appeal, attended the hearing for me and got my tax bill reduced, the most satisfying part was when it was over the County owed me money!"




We are also a full service law firm and can help you with any legal issue you have.

Contact GMACFOA and SFFOA Member

Barry L. Simons, Esq.

(305) 670-7020